30 Day I CHOOSE ME No Sugar No Flour Challenge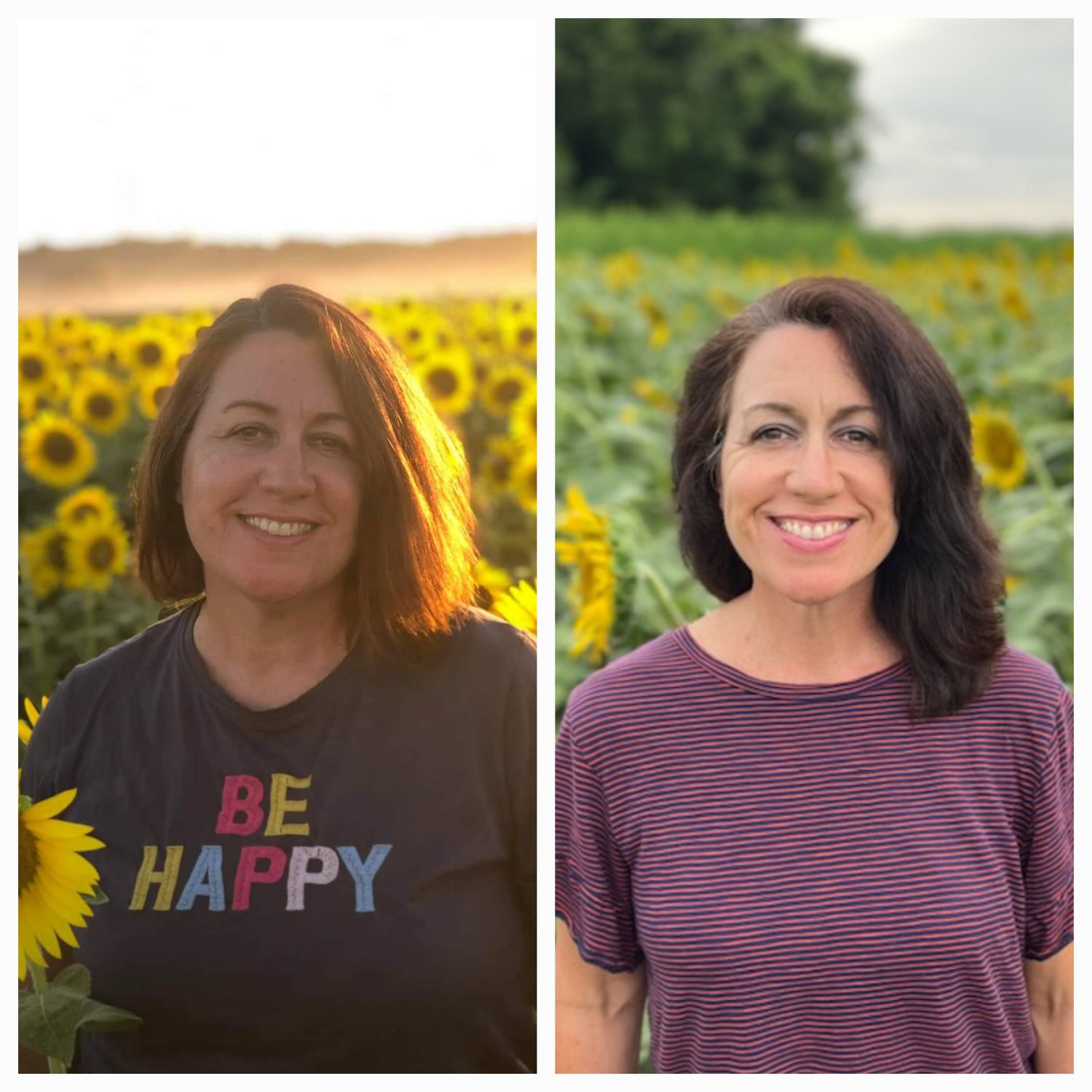 ALL YOU NEED TO KNOW AND MORE...
I am Deanna Ley, and I will be your guide for the next four+ weeks if you choose to join the 30 DAY "I CHOOSE ME" NO SUGAR NO FLOUR CHALLENGE.
If you do, we are going to have a blast getting to know each other, and learning how we can best support, uplift, and encourage each other as we work to live a no sugar, no flour life.
Are you ready to put YOU first? This Challenge will help you get back to loving the YOU that you see in the mirror. If you fully commit for the entire 30 days, I assure you that you will come out on the other side transformed - mind, body, and soul.
Before you fully commit to it, I want to share all the details:
1) IMPORTANT: This is not a Bright Line Eating (BLE) sanctioned nor BLE-supported group. I will be sharing the tips, tools, and teachings which have helped me release over 90 pounds in a year. Everything I guide you through will be able to be used for any program you choose to do - whether it's keto, intermittent fasting, Weight Watchers, etc. You DO NOT have to do BLE to be in this group or part of this challenge.
In fact, we encourage all participants to use "neutral language" so everyone feels supported no matter what program or plan they are choosing to do. The goal is to learn from each other and support each other as we pave the way on our own journey to our healthiest self.
2) This is a no guilt, no shame, no negativity, no policing, and no drama group. This is not a victim space. This is an empowered space. If you believe you are powerless over food, this isn't the Challenge for you.
We are going to work hard over the 30 days of the Challenge to release ourselves from negativity, shame, and guilt. Anyone choosing to cast their issues onto others won't be a good fit for what this Challenge stands for. We are here to support and encourage - not shame - ourselves or anyone else. As shared above, we are all on our own NO SUGAR NO FLOUR (NSNF) journey. If drama or policing others is your typical MO, this is not going to be the group for you.
3) Any recipes that are shared must be no sugar and no flour. We work to stay away from recipes with sugar or flour substitutes as well, knowing that if we are using things like Stevia or Monk Fruit or XYZ, we can add those ourselves without making them a part of the shared recipe. If you have questions on this, let me know. We will have a place that houses amazing recipes that we can all add on to and keep for future use.
4) There will be accountability. While I can't force you, I will strongly encourage you to share throughout the Challenge, knowing that if you choose to do so that you are in a safe space. We share WINs and WOWs each day, which is always a good time. This Challenge is a place where we celebrate each other A LOT, and where we learn to celebrate ourselves A LOT, too.
5) There will be Activities to complete each day. Again, while I can't force you, I will strongly encourage you to participate in the Activities that I email out every day. These Activities will stretch you and give you a space to grow, shedding the shackles that bind so many of us when it comes to our self-talk and the choices we make surrounding food. While I won't make you share, if you choose to, know that it is a safe space to do so. These Activities aren't just about how to live a NSNF life, but we also get deep into the mental aspect of why we sometimes turn to food out of habit or emotions, how we can pull our triggers out of the dark and face them head on, and how we can not only learn why we do what we do, but who we are at our core, too. This Challenge will challenge you. That I can guarantee!
6) We have a "The More The Merrier" mentality. If you are looking for a small, intimate group, this is not the Challenge for you. I am on a mission to build a strong Community of Support because living a NSNF life isn't easy. I 100% believe that we need to be surrounded by phenomenal humans who understand what we are going through - the ups and the downs - and because of that, I don't limit the group's size. If people feel called to join and to commit to the Challenge, they are welcome to join us until the cutoff date (the day before the Challenge starts). If you decide to join, you will see how amazing this Community is. The level of support and encouragement is amazing, and turning someone away who wants to be a part of that isn't how I have chosen to craft this Challenge.
7) This group is VERY interactive. You may find the interactivity of this group overwhelming at times, but know that the level you choose to engage at is 100% UP TO YOU! I can share that the more engaged you stay, the better we can support, uplift, and encourage you. However, if you are more comfortable being an observer or only piping in every now and then, this is still a great place for you and you will still get a lot out of it. If you are having a hard time keeping up with the Activities or the interactivity, don't worry - we will give you tips and tools along the way to be able to do so.
8) We will use Marco Polo (MP), a video messaging app, to communicate throughout the day. Because people can get overwhelmed easily with this app when they feel like they are "behind" listening to other people's videos, I am going to ask that you keep your MPs short and sweet. Less than 5 minutes is a good time frame to keep in mind - set a timer on your phone if you need to. When every MP gets over 5 minutes long, they become a chore to listen to, no matter how good the content. Promising to keep them short will ensure people can watch and respond in a timely manner.
If you are usually a long-winded story-teller, please know that I may kindly ask you privately to shorten your videos. It's not that we don't want to hear what you have to say, but we want the group to remain as interactive as possible, and I've found over the years of using MP that, in a larger group, it's best if the videos are short and sweet. Thank you in advance for your agreement to that.
With all of that being said, every day I will leave a message via Marco Polo about that day's Activity. There is info I will share in these MPs that will expand on the Activity and will contain a lot of teachings and takeaways. Those from me will be longer than 5 minutes because they will contain info to aid in your transformation.
If you start to get behind with watching the Marco Polos, commit before you join to at least watching the ones I leave each day.
NOTE: I add the videos I record in Marco Polo to a Google Drive folder each day. You will have access to them at any time during and after the Challenge.
If you know you want to join this Challenge, please download the Marco Polo app. It will try to get you to subscribe or pay the yearly or monthly fee - YOU DON'T HAVE TO! It's free to download and use, but there is a paid version (in-app purchases) it will prompt you to get. Don't get that unless you absolutely want it for yourself. Everything we do inside that app can be done with the free version.
I will send out the link to join this Challenge's Marco Polo group on Day #1 of the Challenge via email.
9) We will also use Facebook Messenger to communicate with each other. As we get everyone finalized on who is for sure in this round, one of the Day #1 Activities will be to join the Facebook Messenger group I create. That group can be used throughout the day for simple questions, check ins, questions... anything! I will post the link to that day's video inside the Messenger group, and we will share WINs and WOWs each day.
10) Communication times will vary. Because we will have people in different time zones all around the world, it's tricky to set a particular time when to message and when not to message. I know we have a few people in opposite time zones as me (I'm CST), and we want everyone to feel like they can communicate at a time that's convenient for them. Here's my suggestion - you can mute both the Messenger group and MP so they don't ding your phone. If the dings get to be too much or at a time that isn't convenient for you, please choose to mute it vs. leaving the group or not participating. If you have questions and need to know how to do both, let me know.
11) This Challenge officially starts on Friday, June 2nd and ends on Saturday, July 1st. I run these Challenges each month. We have a lot of people who have been with me for numerous Challenges. My philosophy is "Come for the guidance and the tools. Stay for the support and the community." If that sounds like something you'd like to be a part of, then this is the Challenge for you!
12) Joining the Challenge is easy. Simply click on the JOIN THE 30 DAY "I CHOOSE ME" NSNF CHALLENGE section below to join. Your payment is confirmation that you are 100% in. Please pay before the start of the Challenge to be included. Once your payment is made, I will add you to the official June (Round 14) list of Challengers.
NOTE: The last day to join this Challenge round is Thursday, June 1st, 2023.
In closing, it's okay to feel a bit of fear and anxiety. Anything new is scary. Putting yourself out there and being vulnerable is uncomfortable. We all have the same thoughts and feelings.
This might be the biggest thing you've done to love on yourself - putting YOU FIRST - in a very long time. ...and there's nothing wrong with that.
You are on a journey to becoming your REAL You and now have an army of people behind you to support you.
We are here to cheerlead you, support you, encourage you and remind you of who you are and who you want to become. You can do this. Just like you are in full control over what you put in your mouth, you are in full control of how you spend these next 30 days. You've got this!
Are you with me?!?
ARE YOU READY TO CHOOSE YOU?!?
Let's do this!
#TogetherIsAmazing
Deanna Ley